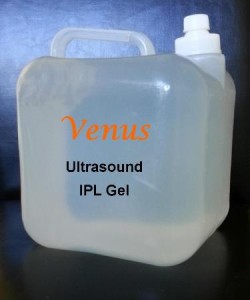 Venus IPL conductivity Gel is water based, thick and clear, manufactured  specifically to be used for IPL, RF and slimming treatments. It is available in 5 litre pouches .
The purpose of the ultrasound gel in IPL treatments is to ensure the following:
1. To cool clients' skin for a more comfortable treatment.
2. To safeguard client from burns.
3. To ensure conductivity between the crystal and the skin.
4. To guide the light to the treated area and avoid unnecessary reflection.
5. To safeguard the handpiece crystal from burned particles. If gel is not used then serious damage can occur on the handpiece's crystal.
TOP QUALITY PRODUCT, NOT RUNNY CHEAP STUFF.