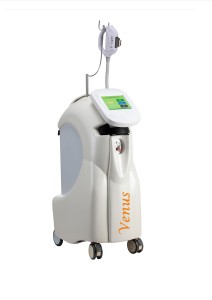 This special IPL machine includes RF incorporated in the handpiece. IPL and RF together are referred to as E-Light.
It will help you to tackle those more intricate jobs requiring that little extra help to achieve outstanding results. It can easily tackle lighter and finer hairs without the need to over deliver on power.
Same as its sister machine Venus Epilite 1, it is one of the most advanced IPL machines on the market. Is a heavy duty machine designed for those salons that IPL is a major part of their business.
With a six capacitor bank this machine delivers up to 60J/cm² effortlessly.
The technical stuff…
Special double-filter wave technology, filters out harmful UV radiation.
Super-intense cooling system for comfortable treatment.
Screen:Colour Touch Screen
This machine comes with two heads. Hair Removal (HR) and Skin rejuvenation (SR)
Spectrum  Filters: Standard 560nm & 695nm
Optional filters: 400,530,595nm)
Cooling System: Water, Air, Semiconductor
Power Density:10-60J/cm²
RF Energy: 10-100J / cm2
Light Spot Size Standard: 10x45mm and
(Light Spot Size Option) 8x40mm
Mini Pulse Number:1-6
Pulse Width (time light on skin):1-10m/s
Pulse Delay (skin resting time):5-100m/s
Discharge time (flash repetition time):1, 2 or 3 sec
Cooling Temperature:-4ºC
Shots per head:50,000+
CE Certified
Weight: 65kg